jlb wrote:My family lived at 61 Taylor Street from the early 1900's until the property was demolished in 1960. I have the census record for 1911 showing my grandparents, Joseph and Mary Bedlington, and their children, including my mother aged 7, living at the address. As a child I lived there from 1950 until just before its demolition. Redpath's shop, mentioned by 'GeordieRoots', was only a few doors away from our front door. I was really hoping to find some photographs of the street as I remember it but have so far been disappointed. I do have a rather depressing photograph of the property as it was being demolished, but it's not how I want to remember it.
In my previous post I mentioned I had a photograph of 61 Taylor Street as it was being demolished. It's a depressing sight, but now I've finally figured out how to attach a photo' to a post I thought I'd share it. Our front door is second from the left. You can see the stairs going up to the flat.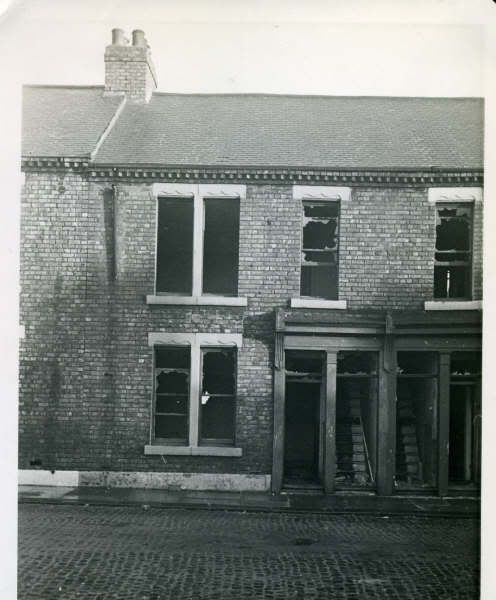 My recollections of it come from the early 1950's when it was my home for the first seven or eight years of my life. The front door opened onto steep stairs leading up to a landing. There were two rooms at the front which looked out onto the street; a small bedroom over the stairs and a room that I knew as the 'lounge'. At the rear there was a living-room, with a second bedroom adjoining it; both overlooking the backyard. One or two steps down from the living room was the 'scullery', which I recall as having a gas cooker, a pantry and a sink with just one tap that supplied only cold water. Stairs from the scullery led down to the backyard where there was an outside toilet - kept frost-free in winter by a small paraffin lamp - a coalhouse and a washhouse. The door from the yard led out onto the back-lane that ran between our street and the rear of Eldon Street. The back-lane was our playground for football - 'doors' - and cricket - the wicket was a dustbin lid supported by a brick.
Lots of memories from that time in my life.
JLB